Enhancing local government services
Enhancing local government services
ACELG has published a new resource that will greatly assist councils assess the services they provide for local communities.
Service Delivery Review: A How to Manual for Local Government brings together advice, toolkits and templates to help councils regardless of size with this critical task.
The centrepiece of the Manual is a 'framework for a service delivery review.'
The Manual meets an increasing need from within the sector for practical guidance in undertaking service delivery reviews that are consistent with current local governance practice and processes.
"This is a significant issue for local councils," said ACELG Director, Associate Professor Roberta Ryan and the Manual's co-author: "Local government service provision has transformed significantly over recent decades, as well, community expectations of local government have increased while other levels of government have devolved various functions."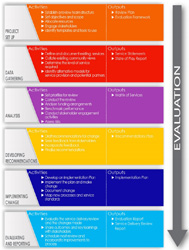 Service delivery review framework from ACELG Service Delivery Review: A How to Manual for Local Government, p.8.
The Manual is intended for council staff such as department managers, elected members, CEOs and general managers, community engagement staff, and builds upon ACELG research Service Delivery Reviews in Australian Local Government (2012) and discussions from the short course 'Enhancing Local Government Service Delivery' run by the UTS Centre for Local Government (UTS:CLG).
Dr Tim Robinson, Director of Sector Engagement and Teaching with UTS:CLG, and second co-author said that the Manual was written with a certain amount of 'future proofing' in mind, and that "local government service delivery reviews are mandatory in a few jurisdictions or are driven by local or sector reform processes."
The Manual was launched at Port Stephens Council (NSW) on Monday 23 June by Council's General Manager, Peter Gesling, followed by workshop about the resource for local government professionals from the region co-hosted by Port Stephens Council.
 
Download
Service Delivery Review: A How to Manual for Local Government
Presentation to Port Stephens Council by Tim Robinson
 
Contact
Jillian Rose: [email protected] / 02 9514 4753
« Back to News