Home
»
2015 Local government research symposium
2015 Local government research symposium
2015 Local government research symposium
Tuesday 21 July, 9.00am - 4.30pm at The Tramsheds Function Centre in Launceston.
This research symposium for local government practitioners, academics and elected members is being organised by the Australian Centre of Excellence for Local Government (ACELG) in partnership with the Local Government Association of Tasmania (LGAT).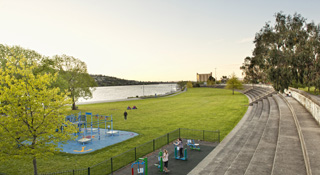 Image courtesy of Regional Capitals Australia
The symposium will include formal and informal sessions and workshops intended to:
Showcase examples of current local government research and practice which relate to key policy issues for Tasmania and Australia.
Provide opportunities for local government practitioners to share information and outcomes of their research projects, and
Discuss the implications of research for local government policy and practice.
For more information call or email Jessie Lymn on (02) 9514 8223, [email protected].
The symposium is being held in conjunction with the 2015 Local Government Association of Tasmania Conference (22-24 July in Launceston).
Registration of $50 includes morning and afternoon tea, lunch and associated materials.
Download the program here.
Program overview
8.15am

Arrival and coffee

9am

Opening remarks

9.15am

Regionalism studies – implications for Tasmania

Melissa Gibbs, Australian Centre of Excellence for Local Government

Abstract | Presentation | Video

In the regional development policy space it often falls to Local Government to coordinate and produce the lion's share of regional visioning, planning, engagement and budgeting for development priorities and projects. This is because local government is the closest governing authority to communities and as such must represent the ambitions and values of their regional areas. However, despite the requirement for evidence-based policy, the success factors that go into creating strong regional capitals have gone widely unexamined.

Over the last two years ACELG has undertaken key research projects with sector-based organisations examining both the role of regional capitals in Australia and the sustainability of rural councils. This presentation provides an overview of the Centre's research program concerning regional Australia, with a focus on the research findings for Tasmania and planned research for 2015/6.

10.15am

Morning tea

10.45am

Local Government in Tasmania - enabling great communities

Facilitated by Melanie Brown, LGAT

Local government and social enterprises: what is the potential value proposition of this relationship?

Mary Duniam, University of Tasmania

Abstract | Presentation | Video

There are many views on the roles that local governments do and should play. They vary from the basic provision of roads, rates and rubbish on one hand through to the stewardship of local economy, society, environment and democracy on the other. These latter roles are seen by many as a necessary response to protecting the local realm in an era of globalisation and financial belt-tightening. Literature identifies that local government is an 'agent of place', but this traditional and enduring bureaucratic institution is facing the challenge of reform: reform of structure and reform of governance, with a shift in focus towards greater community collaboration. Citizens now want and need to be involved in decision-making, particularly decisions that are relevant to contemporary community needs, and decisions that will shape their future and create local value. This has prompted the rise of questions about the relevance and capability of local government in Tasmania to maintain sustainability from both a community perspective and governance perspective.

This paper presents a new way of seeing how community organisations such as social enterprises, may be linked to local government's capacity to deliver favourable outcomes for its citizens. This paper also suggests that this is an opportunity for collaboration between local government and social enterprises, to influence local value creation. Social enterprises are organisations that have emerged within community, operating across economic and social platforms, creating value by filling identified social deficit gaps within local communities. Findings from 4 local government case studies and 8 social enterprise case studies (2 per Council) within Tasmania tell us how Councils see their role and how social enterprises see themselves. This paper looks at the nature and extent of relationships between local government and social enterprises and asks the question: What is the potential value proposition of this relationship?

What is the role for local government in supporting community and regional food security? Tasmanian research informing policy and practice

Leah Galvin, Heart Foundation

Abstract | Presentation | Video

Tasmania is the first and only state in Australia to have a state based food security strategy, Food For All Tasmanians. Food security in Tasmania is growing in importance to all levels of government but remains a confusing mix of ideas and practices across Tasmania. The Healthy Food Access Tasmania (HFAT) project funded by Tasmania Medicare Local is working with communities and local governments across Tasmania to build local and regional responses that improve access to healthy food and create other social and economic benefits. The project focusses on enterprise based solutions to issues around inconsistent affordability, access and availability of food ironically occurring in a perceived food abundant environment.

Through the HFAT project partnerships are emerging along the food value chain, local government and community organisations. The locations of HFAT funded projects (often led by local government) and ongoing engagement with local government is heavily informed by the research which is embedded within the project's three phases. Most recently the project has included research investigating the attitudes and future priorities of Tasmanian local government councillors and the workforce as they relate to food security and the role of local government.

Key barriers and enablers for local government to be a more active leader in the food security space have been identified. Similarly the opportunities and approaches which will likely gain traction and support from local governments have been uncovered. This presentation will include details of the recent research findings and outline how it will inform the future implementation and activities of the HFAT project.

11.45am

Launch of the online resource 'Building social cohesion in our communities: A resource for local government'

Australian Human Rights Commission

12pm

Lunch - QVMAG Meeting Room

1pm

Local Governments: taking on their leadership role

Presenter: Sophi Bruce, UTS Centre for Local Government

Facilitator: Craig Perkins, CEO RDA Tasmania

Abstract | Presentation | Video

In this session, facilitated by Sophi Bruce, Leadership Program Specialist at UTS:CLG, two recent ACELG research reports related to leadership and learning in local government will be presented. In each of these papers the Management Challenge, an annual program initiative of LGMA National, is referred to as a best practice example of a leadership and peer learning opportunity for local government. The session will include presentations from City of Burnie and Kingborough Council who will provide different perspectives on how the research requirements and the experience of the LGMA Management Challenge has led to leadership and peer learning outcomes.

2pm

Afternoon tea and launch of the Erica Bell Essay Competition

2.30pm

Reform in Local Government – lessons from around Australia

Presenter: Catherine Hastings, ACELG

Facilitator: Melissa Gibbs, ACELG

Panel respondents:

Phil Hoysted, Department of Local Government
Katrena Stephenson, CEO LGAT
Sandra Ayton, General Manager, Central Coast Council
Professor David Adams, University of Tasmania

Details | Presentation | Video

This afternoon session grapples with key issues facing local government with regards to sector reform.

4pm

Closing summary

Katrena Stephenson, CEO LGAT

Darryl Quillian, Acting President, LGAT

4.30pm

Close