About this resource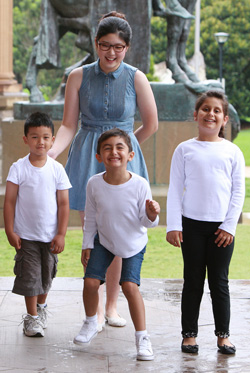 Australia in 2015 is a multicultural country. In addition to the First Peoples of this land, Australia is home to people who identify with more than 270 ancestries. More than 25 per cent of us were born overseas and an additional 20 per cent have a parent who was born overseas.1 Our religious diversity is also increasing and over seven per cent of Australians follow non-Christian religions.2
When compared to other societies, Australia is a multicultural success story and about 85 per cent of Australians feel that multiculturalism has been good for Australia.3 Yet maintaining social cohesion can be a challenge. Prejudicial attitudes persist, with nearly 20 per cent of Australians having experienced discrimination because of their race or religion.4 Most recently, rallies around the country have indicated disquiet about the perceived influence of Islam on Australian society, although Muslims make up only around two per cent of the population.5
Broader social tensions can play out at a local level. For example, numerous councils have experienced community opposition to the building of mosques. In addition, changing demographics, particularly in growth areas, have led to some places quickly becoming more culturally diverse which can result in disharmony between newly arrived groups and established communities. Factors ranging from conflicts overseas to competing demands for local resources can also cause or exacerbate tensions between groups.
This resource is intended to help local governments build strong, socially cohesive communities. It aims to help local governments to:
Understand their communities and measure their strengths and weaknesses
Engage their communities and build partnerships between key stakeholders
Prevent and respond to incidents of racism and conflict between groups if they arise
Strategically plan for the needs of their communities now and into the future
Monitor, evaluate and share outcomes.