Long-term integrated council planning manual
Long-term integrated council planning manual
A new resource from the Australian Centre of Excellence for Local Government (ACELG) provides practical assistance to all rural-remote and Indigenous (RRI) councils in Australia looking to adopt integrated long-term planning processes.
The publication, Integrated Long-Term Planning: An Information and Resource Manual for Rural-Remote and Indigenous Councils, will help RRI councils capture the benefits of this contemporary approach to local-level planning for their communities and organisations.
Although targeted at RRI councils, ACELG hopes that the resource will be useful for non-RRI councils also.
Some review comments on the draft Manual:
"The [Manual] will be a valuable addition to the body of work and capacity building resources on long-term strategic, operational and workforce planning for local governments in general and RRI councils in particular."
"The challenges which RRI councils themselves face in developing and implementing ILTP frameworks and their component plans cannot be underestimated."
The Manual presents key resources for considering an integrated long-term planning (ITLP) approach, including:
up-to-date foundation principles about ITLP with time-saving research and examples of community planning goals, strategies and indicators, plus a comparative table of council planning requirements from all jurisdictions
case studies from councils using an ILTP approach such as Roper Gulf Shire Council (NT), Wentworth Shire Council (NSW), Shire of Exmouth (WA) and others in Queensland and South Australia
practical templates for developing a community plan, a council or corporate plan, and a community engagement plan
an inventory of current Australian local government ILTP resources developed by state and territory governments and representative organisations - all with active web-links.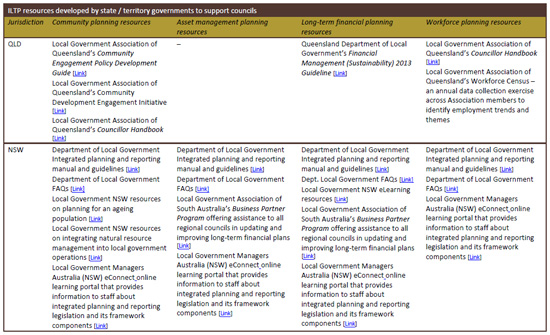 A screenshot of the inventory of current Australian local government ILTP resources
The Centre's Deputy Director Melissa Gibbs heads up the UTS ACELG Rural-remote and Indigenous Program: 
"ACELG has long recognised the unique challenges faced by RRI councils as some of the smallest and most resource-constrained local governments in Australia. Yet like all councils, they are expected to effectively address contemporary sector challenges such as good governance, workforce planning and asset and financial management, among others. 
"Integrated long-term planning (ITLP) is now contemporary practice in local government. The manual will help RRI councils understand its potential to deliver better organisational performance, and to meet obligations where this planning process is mandated in a state or territory. 
"I am immensely proud to see the manual published alongside other ACELG resources developed for RRI councils, and look forward to feedback about it."
Further comments from reviewers of the draft Manual:
"The case studies provide an interesting and contrasting insight into different approaches … employed in developing ILTP plans [and provide] practical and tangible illustrations of how councils have developed their frameworks and component plans and the resultant benefits, challenges and influence of such planning on their day-to day activates and decision making."
"I commend ACELG for embarking on this major capacity building project and developing a comprehensive manual."
"The challenges in developing such a manual to suit the integrated long-term planning needs of multiple jurisdictions (given the different legislation and statuary planning requirements) across Australia is noted."
Download manual
Integrated Long-Term Planning: An Information and Resource Manual for Rural-Remote and Indigenous Councils
Download templates: Community Engagement Plan Template; Community Plan Template; Council Plan Template.
Contact
Melissa Gibbs
ACELG Deputy Director: [email protected] | 0412 647 233.
« Back to News